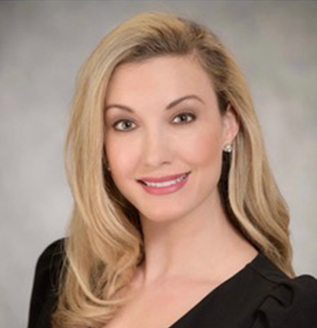 Jennifer Hoye was born and raised in Phoenix, Arizona. She received her Bachelor of Science in Speech and Hearing Sciences from the University of Arizona. She then completed her Master of Science in Communication Disorders from Arizona State University. Jennifer practiced speech-language pathology for several years in multiple settings, including inpatient and outpatient rehabilitation and home health care. She specialized in the treatment of cognitive-communication disorders resulting from stroke and traumatic brain injury.
Jennifer met her husband, Dr. Stephen Hoye, in college and they moved to Las Vegas in 2011 after he accepted a Radiologist position with Desert Radiology.
Jennifer and Stephen have two children, Victoria (age 14) and Ben (age 11). Jennifer enjoys watching her kids play sports, working out, traveling, and
spending time with friends.
Jennifer joined CCMSA in 2017. She has participated in the annual Fashion Show, including being a silent auction committee member and runway model.
Jennifer joined the CCMSA Board of Directors as Assistant Treasurer in 2019 and Treasurer in 2020. She served as Co-President Elect and Fashion Show
Silent Auction Co-Chair in 2021. She served as Co-President of CCMSA for the 2022-2023 and focused on creating opportunities for members to connect, as
well as raising funds and awareness for the annual Holiday Scholarship Project and charity of choice, Project Marilyn. Jennifer continues to serve on the board
this year as Immediate Past President in more of an advisory role.
Connect With Jennifer Hoye: